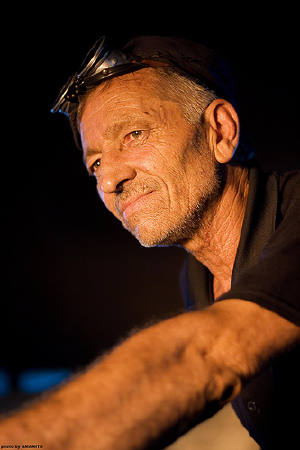 During this economic downturn, millions are finding themselves out of work. Please join with us here to pray God's grace, encouragement, and provision into their lives.
come back after you pray
and add your prayer below
[slider title="If you are out of work, please read this:"]
On Apr. 13th I received a note from a couple who had been praying with us on the Baghdad Prayer Patrol and had a son in Iraq. They had both been out of work.
Sally wrote: "…We know and believe GOD is more than able to keep our son safe, bring him home, and provide us with jobs where we can be a blessing to ministries such as yours. God Bless and keep you and your family…"
---
I prayed for this couple and sent them the prayer I prayed over them:
Sally,
Can we do an experiment?
I have prayed this prayer over you and your employment situation.
Would you print out this prayer and pray it everyday for the next week?
I believe if you command these mountains to move and expect something good to happen that you will see an employment answer before the end of the month.
Let's try it and see what happens.
Blessings, Wayne Dillard
---
I received this response:
Wayne,
God Bless you for your quick reply. And YES, we will pray that prayer everyday for a week starting right now. And we're looking forwarded to sending you the Praise Report!
God Bless,
Sally
---
On Apr 30th I received this report:
Hi Wayne,
I know I don't have to tell you about the Power of Prayer! Let me briefly tell you what our GOD has done!
I had been praying the prayer you sent. I missed a day or two saying the prayer you sent, yet I was still praying and crying out to GOD as well as made up for those days I missed saying the prayer you sent and continued to pray even after the seven days were up.
My husband and I went to a Job Fair on April 24th. Him and I both had interviews yesterday. He got HIRED yesterday and I had a second interview today from a previous interview.
The interview on yesterday for me and the previous one both went well and promising. The interview on today went well. The lady offered me the job. I'm going to decline and believe that is what GOD would have for me to do due to it's only part time without any benefits where the interview I had on yesterday, again sounds promising with full benefits after 60/90 days. The gentleman from the interview on yesterday told me he had hired me yet he had to wait on the VP of the company for approval and have a second interview with me on May 6th with the VP and to hold May 11th date open because that is when he would want me to start.
Wayne, I just wanted to share this with you. Wow! What an AWESOME GOD we serve!!! Forgive me for such a long email. I Praise GOD for you and the prayer warriors that are praying for my husband and I. I will get back with you when I hear back from the other job. I'm believing that GOD has that door open for me and that's where I'll be working. Any feed back you would like to make is welcome.
I'll be in touch.
---
Sally and her husband are now both working!
If you are out of work, please follow their example of seeking and praying. In their seeking for a job, they never neglected their praying, and in their praying for a job, they never stop seeking for interviews and doing what they could to secure employment.
I see 3 things in their situation that brought them through to victory:
They worked hard at getting a job
They commanded the mountains to move
They believed God's promises and resisted despair, and discouragement
Here is the prayer I sent to Sally.
If it helps you, please come back and leave a testimony to encourage others.
Bless My Provision:
Lord, Your name is above every name that has ever been named, You are the alpha and omega, the beginning and the end. You are a generous and loving God, and there is nothing beyond Your reach. You are my friend's hope and salvation, and You are their rock.
You know me Lord, You know my needs and You know the obstacles that stand between my needs and the abundant provision that You want to supply. I'm asking Lord for Your hand of provision to reach into my situation. Give me revelation and wisdom, and the courage to do what You show me. Guide me in the paths of righteousness for Your name's sake.
Lord, You said that we can speak to the mountain, the obstacles, that stand between us and Your desires. I speak to these obstacles that hold me back from receiving Your blessings, and I command them to move aside in Jesus name. I call for Your revelation to come to me. Reveal to me Lord, what these mountains are that challenge Your provision for me, and give me the courage, and faith to rebuke them, and command them to move aside.
Bless me Lord with the abundant provision You have promised us. Not meager provision, but abundant provision that is pressed down and overflowing. The provision that honors You as the generous provider that You are. Cast down the lies of the devil, and cause fresh faith to rise in my heart, that I might stand firm on Your promises, honor Your holy name, and receive all that You have in Your hand for me. In Jesus mighty name, amen.
Some scriptures to soak in:
He replied, …I tell you the truth, if you have faith as small as a mustard seed, you can say to this mountain, 'Move from here to there' and it will move. Nothing will be impossible for you." -Matthew 17:20
The LORD is my shepherd, I shall not be in want. He makes me lie down in green pastures, he leads me beside quiet waters, he restores my soul. He guides me in paths of righteousness for his name's sake. -Psalms 23
Give, and it will be given to you. A good measure, pressed down, shaken together and running over, will be poured into your lap. For with the measure you use, it will be measured to you." -Luke 6:38
Blessed are all who fear the LORD, who walk in his ways. You will eat the fruit of your labour; blessings and prosperity will be yours. -Psalms 128:1-2
My friend, God's desire is to bless you and provide for You abundantly. The devil has determined to keep you from God's blessings. Like an heir fighting for their inheritance, you need to command the mountain to move aside so You can receive all that God has for you.
Beloved, I pray that in all respects you may prosper and be in good health, just as your soul prospers. -3 John 2:2[/slider]
Please leave a prayer for the jobless
or a testimony of God's provision below
(no prayer request please)